La Digue Self-Catering & Mid-range Hotels
There's a great choice of mid-range accommodation to be had on La Digue, with new properties springing-up each year. Choose from a selection of self-catering La Digue chalets and bungalows, often with their own private kitchen facilities, with either sea views or tropical garden settings. You'll be spoilt for choice, so we've tried to make it easier for you buy selecting our top recommended mid-range properties. Although nothing is ever far away on La Digue, we offer accommodation in all the best locations, and all within easy reach of the beaches, restaurants and other island activities. For a comprehensive list of the best things to see and do on La Digue, take a look at our useful La Digue travel tips.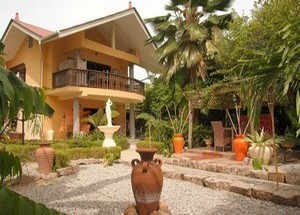 La Passe, La Digue Island
Comprising of four tastefully decorated double rooms, Oceane Self Catering offers an affordable self-catering option for visitors to La Digue. Located in La Passe, close to the centre of island activities, each room is equipped with air-conditioning, fan, bathroom, TV and veranda. There's a fully equipped kitchen as well as an outside BBQ for guest use. There's even a large outdoor jacuzzi to relax in after a hard day on the beach.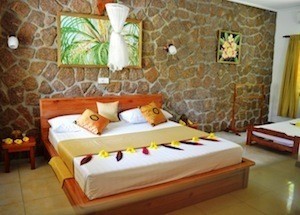 Inner Island, La Digue Island
If you're looking for peace and tranquillity, Cocotier du Rocher, is the perfect place to stay. Located in the middle of La Digue, it comprises of 3 semi-detached bungalows, all decorated in a 'Coco' theme. This 'Villa de Charme', set upon an acre of lush tropical garden, boasts 6 master-bedrooms, all with terrace/balcony, air-conditioning, ceiling fan and fully equipped kitchen. Bicycle rental is also available on site.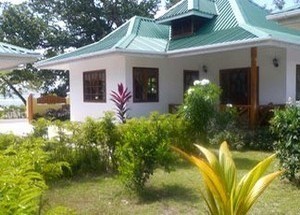 Anse Reunion, La Digue Island
Located right across from Anse Reunion beach, Le Surmer Self Catering Chalets welcomes visitors from around the world to the relaxing and tranquil island of La Digue. Their 8 chalets, comprising of either 1 or 2 bedrooms, are fully air-conditioned and feature a bathroom, dining room, lounge, cable TV and telephone & internet facilities. They also come equipped with a kitchen and private veranda. Breakfast & dinner available upon request.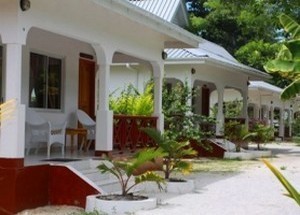 Anse Reunion, La Digue Island
Situated right next to the Veuve Nature Reserve, home to the famous Paradise Flycatcher, Villa Veuve Hotel offers guests a choice of 18 extremely spacious villas set in a tranquil environment among lush tropical vegetation. Great for couples and families alike, each air-conditioned villa has 1-2 double beds, fully equipped kitchen, safety deposit box, and spacious veranda. Breakfast and first-class Creole buffets are served in their restaurant. There's free Wi-Fi too!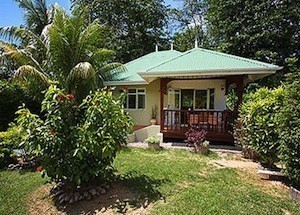 Anse Reunion
Nestled amidst swaying palms, Case de Leela guesthouse is the perfect holiday retreat. Situated in the heart of Anse Reunion it's close to shops, restaurants and the island's famous beaches. Choose from 1-2 bedroom bungalows to tastefully decorated apartments, all with excellent facilities that include king-size bed, living room, en-suite bathroom, air-conditioning and fully equipped kitchen. There's a swimming pool as well as free transfers to/from the jetty.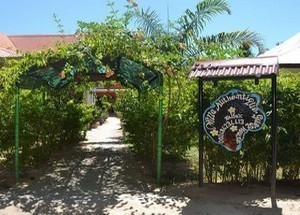 La Passe, La Digue Island
Located just a 2 minute walk from the jetty, Villa Authentique offers 9 air-conditioned rooms, each with en-suite bathroom, king-size bed, mini fridge, hairdryer and tea & coffee making facilities. There's a restaurant serving typical Creole cuisine and a bar to relax in. Guests can also make use of the villa's powerboat for big game fishing excursions or water-sport activities (charges apply).
We've teamed-up with two of the world's leading online hotel platforms - Agoda.com and Booking.com - to bring you the very best selection of mid-range and self-catering La Digue accommodation. Clicking on the "More Info and Rates" button, next to any of our recommended properties, will take you straight to either the Agoda.com or Booking.com website, where you'll be able to find out more about each property, search live room availability and get the best online rates. Booking with our partners is safe and secure, and all accommodation bookings come with their "Best Price Guarantee". And if you're looking for a little more luxury or perhaps something to fit a smaller budget, there are plenty of other hotels and guesthouses to choose from.