Guesthouses La Digue
Want to stay in paradise without spending a fortune? If you're looking for an affordable guesthouse La Digue is the place to head to. Apart from its world famous beaches, La Digue offers some of the most reasonably priced accommodation in the Seychelles. We've selected our top recommended budget guesthouses and apartments, which all offer comfortable accommodation, friendly service and value for money. Nothing is ever far away on La Digue and our selected La Digue guesthouses are all within easy reach of the island's main attractions. For more on what to see and do while visiting La Digue, check out our useful Travel Tips.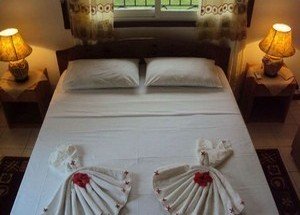 Anse Reunion, La Digue Island
Only 300m from the beach at Anse Reunion, Benjamine's Guest House is offers affordable accommodation in a garden setting. The property has 3 air-conditioned rooms, each with a king-size bed, private bathroom, ceiling fan, safe and mini-fridge. Each room has its own terrace with tea & coffee making facilities in all rooms. They offer Bed & Breakfast as well as Half Board rates, where you can sample some of the most exquisite and traditional Creole cuisine.


La Passe, La Digue Island
Situated on the first floor of the Mills Complex, amidst a peaceful and exotic tropical garden, the La Digue Self-Catering Apartments offer modern accommodation with an elegant Creole touch. Each of the 6 spacious rooms is fully air-conditioned, with all the facilities you'd expect from a self-catering property. Standing alongside the beach at La Passe and only a few minutes from the jetty, this newly built complex offers excellent value for money.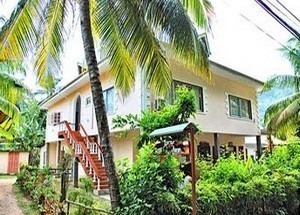 Anse Reunion, La Digue Island
Not far from the Veuve Nature Reserve and only a 10 minute walk to the beach, Zerof Guest house is a good low budget choice. The guest house comprises 2 standard and 2 large rooms, each with air-conditioning, ceiling fan, en-suite bathroom and minibar. For families they offer a 2 bedroom self-catering house, with all facilities. There's a good restaurant on site and a souvenir shop. They also offer free transfers to/from the jetty.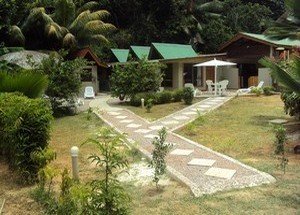 Anse Reunion, La Digue Island
Set amidst tropical greenery in the heart of the island, Belle des Iles is ideally situated close to the famous beaches of Grand Anse, Petite Anse and Anse Coco. Guests have a choice of 2 spacious air-conditioned rooms, each with king-size bed, private bathroom and veranda. The master suite boasts a fully equipped kitchen and lounge area. Wi-Fi is available in public areas and they offer free transfers to/from the jetty.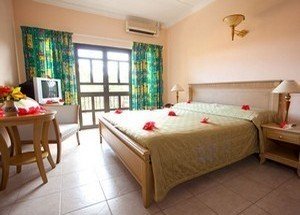 Anse Reunion, La Digue Island
Centrally located in the heart of Anse Reunion village, Gregoire's Apartments offer excellent value for money and are ideally situated for exploring the island. Situated on the 1st floor of the Gregoire's Complex, just across from La Digue Island Lodge, the 15 air-conditioned rooms all offer en-suite bathrooms, double or twin beds, TV and a balcony/terrace. The Complex is home to an excellent pizzeria as well as a well-stocked supermarket, bank and bakery.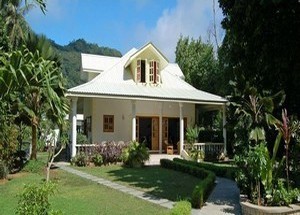 La Passe, La Digue Island
Only a 2 minute stroll from the jetty, across from La Passe beach, Kot Babi Guest House sits in an exotic garden of coconut palms, takamaka trees and flowering plants. Its 9 en-suite rooms all offer air-conditioning, ceiling fan, tea & coffee making facilities and mini bar. Providing comfortable and convenient accommodation they offer breakfast as well as authentic Creole cuisine cooked by owner/chef Babi.
All our accommodation is offered in partnership with Agoda.com and Booking.com - the world's fastest-growing online hotel platforms - and with prices starting from as little as €40 per night, there's never been a better time to start planning a holiday in paradise. To check up-to-date room availability and the best online prices just click the "More Info and Rates" button by your selected property. You'll be instantly re-directed to our partners' website, so you can be sure you're booking is secure. You will also be able to browse their selection of La Digue luxury and mid-range properties too. And don't forget, all prices are backed by their "Best Price Guarantee" so you know you're getting the lowest online rates.