Praslin Diving
Dominated by granite boulders of all shapes and sizes, Praslin's underwater landscape plays host to a rich variety of marine life. As the second largest of the Inner Islands, diving in Praslin affords you access to around 17 dive sites with depths varying between 8-20 metres, making them accessible to divers of all levels. During the day the clear tropical waters around Praslin are rich with multi-coloured reef fish darting above sponge-clad rocks, while reef sharks, sting rays and turtles glide silently by. At night the same rocks come alive with an assortment of exotic creatures, creeping and crawling their way through the darkness.
Most activities are focused along the popular Côte d'Or, where you will find Whitetip Divers and Octopus Diver - both located along the shores of Anse Volbert. They offer a full range of services from complete beginners to the more experienced diver and are ready to make your Praslin diving experience a memorable one. You can find out more about what each dive centre has to offer below.
Whitetip Divers - Praslin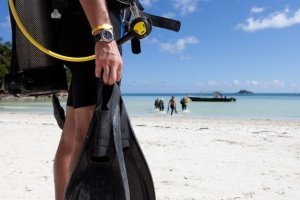 Whitetip Divers is located in the Paradise Sun Hotel, right on the beach at the famous Côte d'Or. They offer daily diving excursions, PADI dive courses, snorkelling trips and private boat charters.
Marine Life
The experienced team at Whitetip Divers have been diving the waters around Praslin and its neighbouring islands for more than 15 years, knowing exactly where to find the wonders of the deep. Let them guide you to one of the many dive sites, where you'll encounter clouds of multi-coloured reef fish, of all shapes and sizes, hovering above the granitic underwater rock formations that diving in Praslin is renowned for. Bathed in plankton-rich water, and covered in sponges and corals, these rocks play host to a great diversity of marine creatures, from tiny nudibranchs and shrimps all the way up to stingrays and turtles. And out in the blue, keep your eyes open for Barracuda, Whitetip and Grey reef sharks, Eagle rays and, in the right season, Whale Sharks can even be spotted.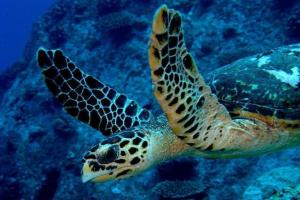 Dive Sites
Praslin's dive sites are very rarely deeper than 20 metres and take anywhere between 5 and 50 minutes to reach by speedboat. Whitetip Divers have two boats: Whitetip Divers - 8 metres long carrying up to 14 passengers & crew and Whitetip Riders - 10 metres long carrying up to 18 people. There's a canopy for sun protection and a ladder to exit the water. Safety equipment is carried on-board as standard. Morning dives leave the dive centre around 9h00 and get back around lunch time. Their afternoon dive normally departs around 14h00

Dive site selection is based on various factors, such as weather and sea conditions and levels of certification. An evaluation of the conditions is carried out before every dive to ensure you have the best experience; this sometimes means moving to a different dive site if necessary. Groups, based on levels of experience, are kept to a maximum of 6 divers and are always accompanied by one of their experienced instructors.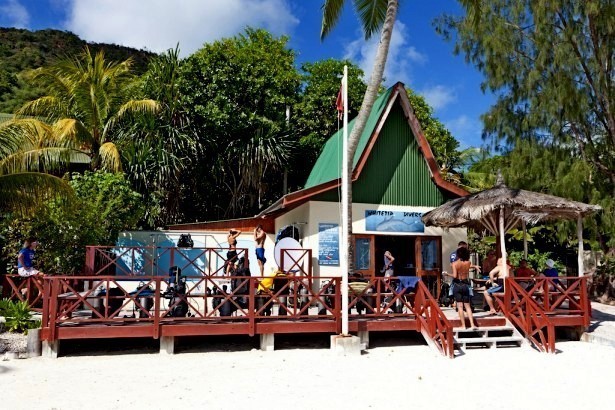 The Dive Centre
The island-style dive centre is situated at the far western end of Anse Volbert and can be reached via the hotel or from the beach. There's a small swimming pool, reception area and a large wooden deck where most of the land-based activities take place. Whitetip Divers has 25 full sets of SCUBAPRO equipment, 55 aluminium tanks and 20 sets of snorkelling gear. Divers with their own equipment are welcome to store it at the dive centre for the duration of their stay. There are also lockers available for your personal effects.

Snorkelling
For non-divers or for those who simply prefer to experience the rich underwater life from the surface, Whitetip Divers also organises half-day snorkelling trips. They run excursions to the most popular snorkelling sites, including the marine parks around Curieuse and Coco Island, St Pierre and Anse Lazio as well as sites further afield such as Ave Maria, Felicite and Sister Islands. Prices include all snorkelling equipment and entry to the marine park when applicable.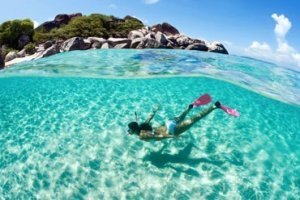 Weather permitting they can even arrange to drop you off on La Digue.
Boat Charters
And for those looking for a totally private experience, whether it is for diving or snorkelling, Whitetip Divers offers private boat charters. You can rent one of their speedboats, including a skipper, for a full or half day of total peace and privacy. They'll take you to the best sites for your chosen activity at a time and pace that suits your wishes, allowing you to enjoy the beauty of the underwater world with all its colours and varieties of marine life.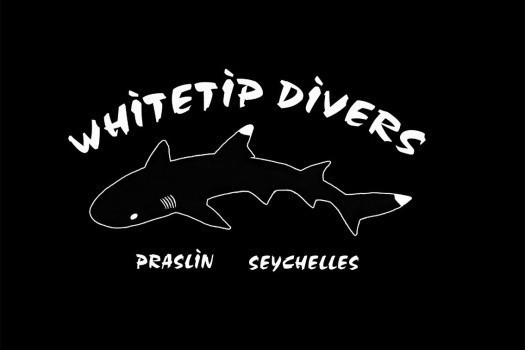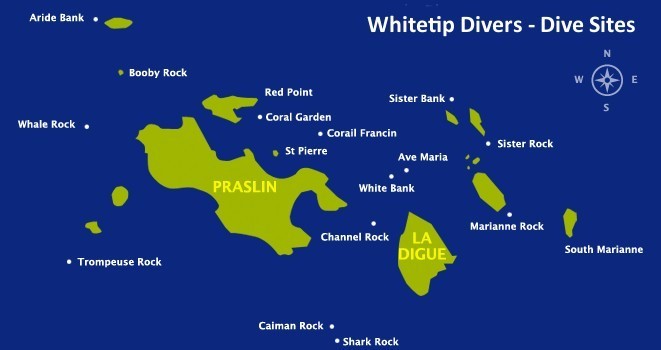 ---
Octopus Diver - Praslin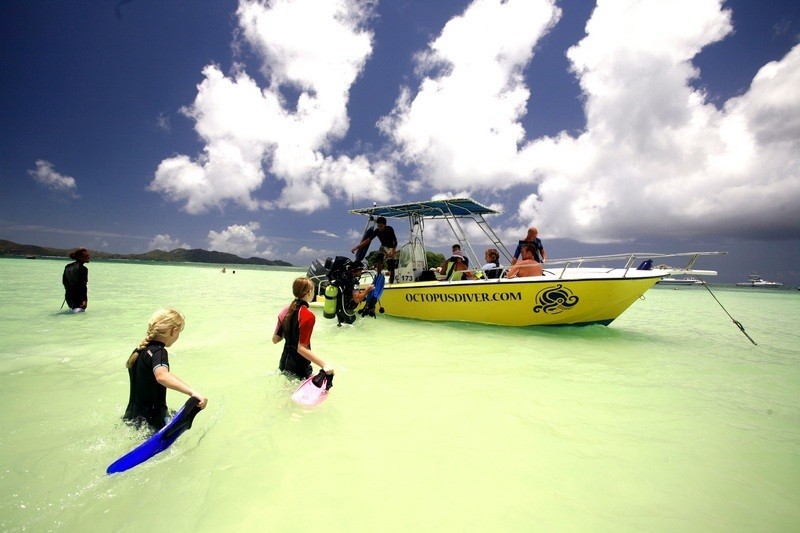 Located on one of Praslin's nicest beaches, Octopus Diver is another reputable Praslin dive centre. Voted as one of the world's top 100 scuba diving centres by German magazine Unterwasser, they offer daily dive excursions, a full range of PADI dive courses, night diving and snorkelling trips.
More of a diving club than just another dive centre, their beachside location in the heart of Anse Volbert is a gathering point for scuba divers from around the world, who come not only for their high standards but for the warmth and friendliness they extend to all their guests.
Getting to Octopus Diver Praslin is easy, with daily fast ferry connections to and from the neighbouring islands. You can check availability here for tickets from Mahe to Praslin.
The relatively shallow waters around Praslin are ideal for all level of divers, especially for beginners. To ensure your safety and enjoyment, groups kept to a maximum of 6 divers groups and are organised according to diver experience and certification level. In reality groups are often smaller, with only around 4 divers per guide - all of which are PADI certified professionals.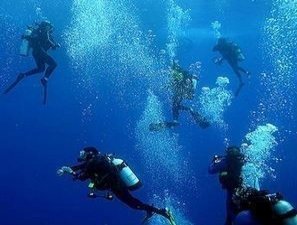 Octopus Diver offers 2 dives per day Monday - Saturday at 9am and 2pm. On Sundays they feature a double-dive excursion leaving the dive centre at around 9:30am returning at 2pm. Snacks and cold drinks are provided on board. They also offer a weekly night dive at around 6pm every Wednesday. For anyone needing to rent equipment they have a good range of SCUBAPRO gear and SHERWOOD tanks, all maintained to the highest standards.
Dives leave from their base on Anse Volbert with journey times to the dive sites varying from just 5 minutes to spots such as St. Pierre or Coral Gardens up to 25-40 minutes for sites further afield like Ave Maria and Whale Rock. To get you to the sites, Octopus Diver has two new speedboats - OCTOPUS 2 and OCTOPUS 4 which can comfortably carry 10 and 12 divers respectively. Both have medical oxygen units and first aid kits on board and maintain permanent radio contact with dive base. Nearly all dives are drift dive - the boat follows you along the course of your dive - so there's no need for any lengthy swims on the surface.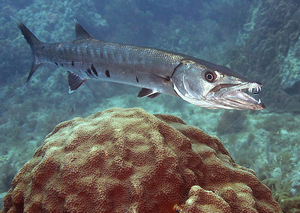 As a PADI 5 Star Instructor Development Dive Resort they also offer a complete range of PADI diving courses that not only include the popular Open Water Diver course but also Advance, Specialty and Rescue courses. And for anyone thinking of taking up diving as a career, they also run Divemaster and Assistant Instructor courses upon request.
Apart from all their Praslin diving activities, Octopus Diver also organizes snorkelling trips. Their experienced captains know all the best spots and will help you to discover the magic of Seychelles' underwater world. They run two trips: Coco, Sister and Felicite Islands - It takes about 30 minutes to reach these 'little gems' of the ocean. You'll have plenty of time to snorkel in the sheltered bays and maybe spot a turtle or two; St. Pierre and Curieuse - located only 1km from the shores of Côte D'Or you'll enjoy a visit to the giant tortoise nursery on Curieuse before heading to St. Pierre, a rocky outcrop set in the heart of the National Marine Park, where you'll encounter a myriad of colourful reef fish and other marine life. It's like swimming in a life-size aquarium!
When you're not diving you can enjoy their spacious leisure lounge, where they regularly display their best underwater photos and videos.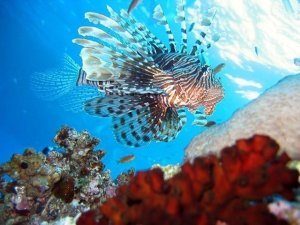 Come and share your diving impressions with fellow divers over a cup of tea or coffee, browse their diving library or simply hang-out. And for anyone not staying in the immediate vicinity they also offer a free pick-up service to bring you to/from your hotel.
Octopus Diver is also proud to be an ambassador for the "International Guidelines for Responsible Divers" in support of "Longitude 181 Nature" - an association whose goal is to promote global sustainability while illustrating the extraordinary cultural and biological diversity of the planet.
So come dive with Florent and the team at Octopus Diver, where you'll not only enjoy some great diving in Praslin but you'll also be giving back to the planet! As part of the "1% for the Planet" initiative they'll donate 1% of every Euro you spend with them to help fund environmental projects worldwide.