Praslin Restaurants
Praslin island is home to a number of excellent restaurants and bars, all waiting to tempt you with their innovative menus, while still staying true to the their Creole roots. As with all Seychelles restaurants, fresh seafood plays a major role on most menus; be it simply grilled at a beach side eatery or more sophitically prepared at one of the higher-end a-la-carte restaurants. Of course, Praslin restaurants offer plenty of other tasty dishes, from traditional Creole-style buffets to more culinary creations, making eating out on Praslin a feast for both the mount and eyes!

Seychellesbookings.com offers its customers exclusive discounts at probably the best restaurants on Praslin. To take advantage of these, and many other offers, just select the discount vouchers whenever you book a ferry ticket on our website. And best of all, you can choose as many different discounts as you like!
---
Constance Lémuria - Restaurants and Bars

Indulge in a culinary adventure at one of the 3 world-class restaurants featured at the Constance Lémuria Seychelles, Praslin.
Receive a 10% discount on your total food & beverage bill!

Simply select and download the Constance Lémuria voucher when completing your fast ferry reservation using our straightforward booking engine.
Restaurants
Fusing Seychellois spices and flavours with fine international cuisine, there is something for everyone:
- Legend Restaurant
- Seahorse Restaurant
- Beach Bar
Bars
Enjoy the warmth of Seychellois hospitality at one of the resort's 5 bars and try a cocktail at sundown or a refreshing drink by the pool:
- Legend Bar
- Seahorse Bar
- Beach Bar
- Pool Bar
- Takamaka
Dress code
Breakfast and lunch – smart casual (no bikinis or men's sleeveless t-shirts)
Evening at bars and restaurants – elegant chic (jacket and tie not required – no t-shirts, shorts, sandals, slippers)
Reservations must be made at least 24 hours in advance.
Telephone: +248 428 1042
Email: [email protected]
Just present your printed voucher upon payment of your bill and get 10% off
---
Hotel L'Archipel

Receive a 10% discount on food and drinks at any of L'Archipel's restaurants or bar when you book your Seychelles ferry tickets through our website. Just remember to select their special offer during the booking process.
Nestled on a tropical hillside at the end of Praslin's famous Côte d'Or, the hotel L'Archipel invites you to dine in one of their two prestigious restaurants, both of which feature the finest fresh seafood and locally sourced produce as well as breath-taking ocean vistas.

From its beachside location, La Gigolette is a beautiful spot to enjoy a delicious lunch, with a choice of Creole and International dishes accompanying the gentle sea breeze and stunning seafront view. For dinner, visitors can enjoy the more secluded atmosphere of La Feuille d'Or, located on the hotel's first floor, with its choice of table d'hôte & à la carte menus. Also on the first floor, next to the pool, you'll find the Ton Francis bar & cocktail lounge, a great place to relax and enjoy a pre or post dinner drink.

L'Archipel also features weekly themed nights, spectacular barbecues and their special Creole nights complete with moutya dance and/or live entertainment.

Dinner reservations required at least 12 hours in advance. Lunch can be booked the same day. Discount applies only to non-guests and B&B guests of the hotel. Half and full-board hotel guests are exempt.
Tel: +248 428 4700 / Email: [email protected]
Dress code: Shorts are not permitted in the restaurants for dinner as well as in the cocktail bar after 19:00.
---
Le Duc de Praslin - Restaurants and Bars

With a choice of three excellent restaurants to choose from, you might need to extend your time on Praslin to enjoy them all!
Get 10% off food & beverages* at any of their locations - Café des Arts / Le Dauphin Restaurant / Chill Out Tapas Lounge Bar

Just select the Le Duc de Praslin special offer during our straightforward booking process before completing your fast ferry reservation. Download the voucher, print it and present before paying your bill.

*Offer only valid for non-guests of Le Duc de Praslin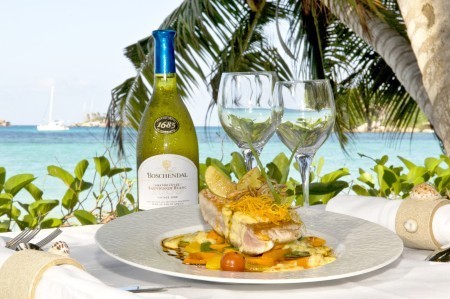 Café des Arts Restaurant
Nestled between the palms of Praslin's famous Côte d'Or, the Café des Arts Restaurant has earned its reputation as one of the best fine-dining experiences in Seychelles.

Set right on the beach, amidst sculptures and paintings from local artists, it offers a veritable feast for the senses with the finest ingredients and attention to detail that one would expect from a restaurant of this calibre. Best noted for its fresh seafood, it's the perfect place for a romantic meal under the stars.
Open 6 days a week (Tue – Sun) for both lunch and dinner
Lunch 11:30-16:00 / Dinner 19:30-21:30
Reservations recommended (Tel: +248 429 4800)
Children under the age of 5 years are not permitted
Smart trousers requested for gentlemen during dinner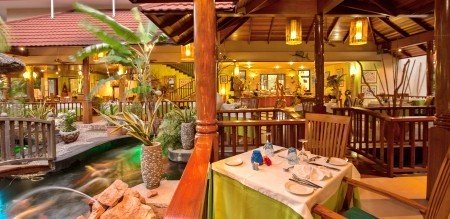 Le Dauphin Restaurant
At the heart of Le Duc de Praslin hotel, surrounded by fish ponds and lush vegetation, Le Dauphin offers a sophisticated restaurant experience with a 'zen' atmosphere, making it a perfect dining hideaway.

Specialising in Creole fusion cuisine, you'll revel at the exceptional choice of local and International dishes, served buffet-style, with each evening having its own dedicated theme. When not offering buffet dining, their chefs will impress you with a delectable 4-course dinner menu.
Open 7 days a week for both lunch and dinner
Lunch 11:30-16:00 / Dinner 19:30-21:30
Reservations recommended (Tel: +248 429 4800)
Smart trousers requested for gentlemen during dinner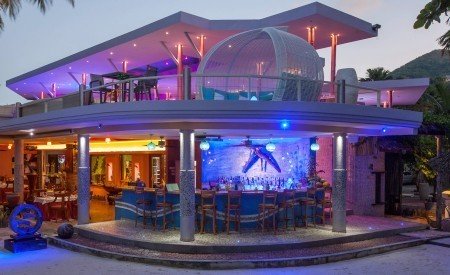 Chill Out Tapas Lounge Bar
This chic and sophisticated lounge bar, located above Café des Arts, is definitely the place to be when the sun goes down.

Enjoy some of the best cocktails on the island, superbly blended by their award-winning barman, as well as a selection of (imported) beers and fine wines. There's also an appetizing assortment tapas-style dishes, ideal for sharing.

The atmosphere is funky, trendy and stylish with comfortable loungers, LED lit table and chairs and a dancefloor that really gets going on the weekends.
Open 5 days a week (Tue-Sat)
From 18:00 until the early hours
Reservations recommended (Tel: +248 429 4800)
---
Return to Praslin discounts or find out how it works and explore other islands
---