Praslin Hotels and Resorts
Do you need Praslin accommodation? Search here for a selection of some of the best properties, ranging from romantic resorts to beachside hotels. Together with Agoda.com and Booking.com you can check live availability and make instant bookings, all backed by a "Best Price Guarantee". To help you choose, we've picked what we believe to be the best Luxury, Mid-range and Budget accommodation in Praslin. Just select a budget range below to see our Praslin hotels.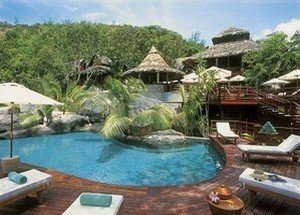 With its long stretches of white sandy beaches, the tropical island paradise of Praslin offers for some the ultimate Seychelles beach resort experience. We are proud to feature some of the most sought after accommodation on the island, with properties such as Paradise Sun Seychelles and Constance Lemuria resort considered amongst the best, luxury hotels in Praslin.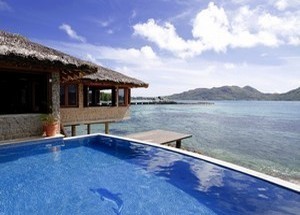 There's an excellent selection of mid-range accommodation available on Praslin. Choose from Praslin self-catering properties, with all the amenities of home, to an affordable Praslin beach hotel with stunning views and the Indian Ocean just a few steps away from your door. To make your choice easier, we've picked out our top recommended mid-range properties.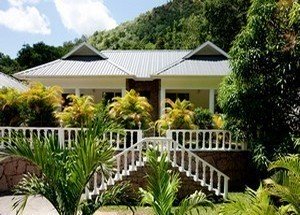 If the luxury price tag of the bigger resorts is stopping you from visiting this magical island, why not stay at a Praslin guest house or small bed & breakfast hotel? Whether you opt for a self-catering apartment, or family-run guest house Praslin has something to suit any budget.

To view our top recommended Praslin hotels, resorts, chalets and guesthouses, just select your preferred budget range from the choices above. All our recommended Praslin hotels and resorts are located in all the top spots. Choose from hillside accommodation overlooking the sweeping Baie Sainte Anne, to beachside properties along the famous Côte d'Or, or 'Barefoot Luxury' at the Raffles hotel Praslin, Seychelles. Visit our hotel partner's - Agoda.com and Booking.com - for the full selection of Praslin hotels and guesthouses.
Praslin - the second largest island in the archipelago - although smaller than Mahe, boasts world-class beaches, lush tropical forests and everything you'd expect from a tropical island paradise. Praslin highlights include the famous Anse Lazio beach, with its powdery white sands and calm crystal-clear waters, as well as the impressive Vallée de Mai Nature Reserve - home to more than 50 endemic plants and tree - including giant palms which bare the iconic Coco de Mer coconuts. Praslin is also home to Seychelles' only 18-hole golf course, and with stunning views across three beaches and the Indian Ocean beyond, it's easy to see why this course is considered one of the most beautiful in the world. Scuba diving is another popular Praslin pursuit. The clear tropical waters and underwater granite structures that surround Praslin play host to a colourful collection of coral reefs and a diverse variety of marine life. And with over 15 dive sites to choose from there's plenty to keep both novice and experienced divers busy.
No trip to Praslin would be complete without making a day excursion over to Curieuse island – with its colony of over 500 Aldabra giant tortoises – or Cousin island, a paradise for bird-lovers. Even better, head over to La Digue for a few days of complete relaxation on some of the most photographed beaches in the world!
Our Travel Tips section has plenty of information about Praslin and its neighbouring islands. So start planning your complete Seychelles Island Hopping experience right here.