Luxury Hotels & Resorts Praslin
With its long stretches of white sandy beaches, the tropical island paradise of Praslin offers for some the ultimate Seychelles beach resort experience. We are proud to feature some of the most sought after accommodation on the island, with properties such as Paradise Sun Seychelles and Constance Lemuria resort considered amongst the best, luxury hotels in Praslin. To help you choose where to stay, we've selected our top recommend luxury hotels and resorts, situated in the most popular parts of the island. Though being only a quarter of the size of Mahe, it's easy to explore all of Praslin's attractions, no matter where you stay. See our useful travel tips for more about what to see and do on Praslin.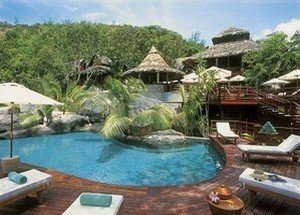 Petite Anse Kerlan, Praslin Island
An epitome of luxury, the Constance Lemuria resort offers the ultimate lifestyle hotel experience. This beautifully designed resort, set amidst a lush tropical landscape, has over 100 luxury suites and villas with stunning views over Anse Kerlan and the Indian Ocean. Excellent service along with a choice of restaurants, host of activities & watersports, swimming pools, spa and an 18-hole championship golf course, will make your stay here unforgettable.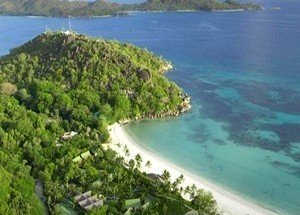 Anse Volbert, Praslin Island
Situated right on Anse Volbert beach, Paradise Sun Praslin is a great choice for couples and families alike. Nestled between the coconut palms, their 80 superior and deluxe rooms, constructed in Creole style, come fully equipped with modern amenities to ensure guests comfort. Dine under the stars in their beachside restaurant or make use from an array of on-site services and activities that include a Balinese spa, dive centre, cooking classes and more.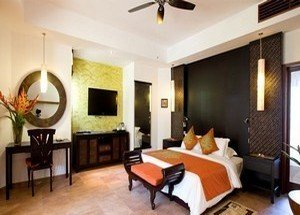 Cote d'Or, Praslin Island
Set amidst an award winning tropical garden, Le Duc de Praslin Hotel is now reputed to be the best value 4-star hotel on Praslin. Ideally situated on the famous Côte d'Or, this boutique hotel has 28 well-appointed spacious rooms all with modern facilities such as flat-screen TV, iPod docking station and minibar. The hotel also features 2 excellent restaurants as well as a spa and the first Magna pool in the Seychelles. They even have giant tortoises too!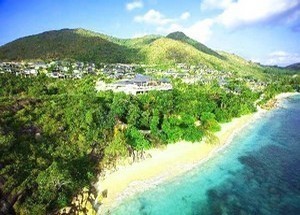 Anse Takamaka, Praslin Island
Recognised globally for their high standards, Raffles Praslin is another top-end resort offering 'Barefoot Luxury' in the heart of the Indian Ocean. Their 86 exquisite villas, designed in a contemporary style, each come with a private plunge pool, outdoor pavilion and 24hr butler service. There's a choice of dining experiences, a host of activities & watersports to keep you busy and of course the award-winning spa to relax and unwind at the end of the day.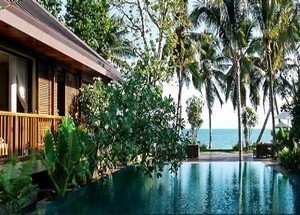 Grand Anse, Praslin Island
With natural living at its core, Dhevatara Beach Hotel is a new concept in 'Barefoot Luxury'. Believing that high standards of service and a respect for nature can coexist, they offer 10 individually designed suites, all with modern amenities, that pay tribute to the Seychelles' cultural and historical background. Relax by the outdoor pool, treat yourself to a spa treatment or indulge in some fine diving. Dhevatara wish you a marvellous stay.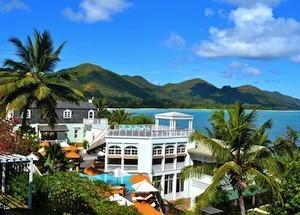 Anse Gouvernement, Praslin Island
Tucked away on a lush tropical hillside at the eastern tip of Cote d'Or, L'Archipel Hotel is the perfect choice for the more discerning traveller. Each of its 30 air-conditioned deluxe rooms and spacious suites come with all the luxuries and amenities one would expect from a 4–star property, as well as stunning views of the Indian Ocean. Along with an infinity pool, there's a choice of restaurants and bars, as well as evening entertainment twice a week.
Together with our affiliate partners Agoda.com and Booking.com - the world's fastest-growing online hotel platforms - we offer a "Best Price Guarantee" on all our hotels and resorts. To check the best prices and live room availability, simply click the "More Info and Rates" button by the luxury property of your choice. You'll be instantly re-directed to either Agoda.com or Booking.com, where you can get additional information about our properties, as well as book your hotel online via their secure system. You'll also be able to search through their selection of mid-range and budget properties.