IMPORTANT:
IT IS MANDATORY TO WEAR A FACE MASK THROUGHOUT THE ENTIRE JOURNEY, ON ALL FERRIES AND TRANSFERS.
Failure to do so will result in boarding being denied.
* NOTE: Due to COVID-19 health and safety restrictions, food and beverages
are currently not available on any Cat Cocos vessel, in any cabin/class.
NO FOOD OR BEVERAGES MAY BE CONSUMED ON BOARD

Mahe to Praslin
Cat Cocos operates three high-speed catamarans between the islands of Mahe, Praslin and La Digue. Their second largest catamaran - Isle of Praslin - together with its big sister - Isle of Mahe - cover the route from Mahe to Praslin, offering several daily departures. The slightly smaller - Isle of La Digue - also operates between Mahe and Praslin with an additional onward service to the island of La Digue. You can check live seat availability, book, pay and immediately receive confirmed e-tickets for your fast Mahe Praslin ferry journey on the left of this page.
The Isle of Praslin departs from Mahe's Victoria jetty and travels non-stop to Praslin's Baie Sainte Anne. Ferry Mahe to Praslin journey time is approximately 60 minutes, dependant on sea conditions. Just present your e-ticket to the CTS (Creole Travel Services) staff at the jetty and they will provide you with your Boarding Pass and assist you in checking-in your luggage. Boarding starts 30 minutes before departure at the Cat Cocos jetty in Victoria, with the Boarding Gate closing 5 minutes before the actual departure time.
Cat Cocos offers passengers a choice of both Economy and Business class travel. Economy class passengers have the option to travel in either the Coco de Mer Cabin or out on the Island Hopper Upper Deck. Business Class passengers have their own separate entrance at the jetty and upon boarding will be directed to the Lazio Lounge - their own dedicated cabin - from where they can begin to enjoy the All-Inclusive* service.
A shared shuttle bus service is available to all Cat Cocos passengers for transfers between the Mahe, Praslin and La Digue ferry jetties and airport/hotels (fees apply). From Mahe Airport, buses leave no later than 1 hour before the ferry departure time. Hotel pick-up times will vary per island (approximately 45-90 minutes before departure), depending on the distance between your hotel and the jetty. Transfers back to the airport, or your hotel, are available after each ferry arrival.
Each passenger is permitted one piece of carry-on/cabin baggage not exceeding 7kg with maximum dimensions of 50cm X 30cm X 20cm. Any cabin baggage above this size will be considered as checked baggage and will be stowed in the cargo compartment.
All Economy Class passengers are allowed up to 30kg of accompanied checked baggage per person. Any luggage weighing more than 30kg will be charged an excess luggage fee of €2.00 per kilo. Passengers travelling in Business Class will be entitled to a maximum of 40kg of accompanied baggage per person.
For questions on how to book your Cat Cocos fast ferry ticket check out the most common FAQ. Online bookings can be made up to 48 hours before departure. For changes or cancellations, please see our Terms and Conditions.
* NOTE: Due to COVID-19 health and safety restrictions, food and beverages are currently not available on any Cat Cocos vessel, in any cabin/class.
Cat Cocos Fast Ferry Schedule:
:
MONDAY
TUESDAY
WEDNESDAY
THURSDAY
FRIDAY
SATURDAY
SUNDAY
Dep.
Arr.
Dep.
Arr.
Dep.
Arr.
Dep.
Arr.
Dep.
Arr.
Dep.
Arr.
Dep.
Arr.
MAHE
PRASLIN
16:00

17:15

14:00

15:15

16:00

17:15

14:00
15:15
08:00
16:00
09:15
17:15

14:00


15:15

14:00
15:15
PRASLIN
MAHE
08:00

09:15

09:00
10:15
08:00

09:15

09:00

10:15

08:00
16:00
09:15
17:15

09:00


10:15

10:30
11:45
MAHE
LA DIGUE
16:00*

17:45

14:00*

15:45

16:00*

17:45

14:00*

15:45

16:00*

17:45


14:00*


15:45

14:00*

15:45

LA DIGUE
MAHE
07:30*

09:15

08:30*

10:15

07:30*

09:15

08:30*

10:15

07:30*

09:15


08:30*


10:15

10:00*

11:45

* Stopover on Praslin for approximately 15-30 minutes
◊ Transfer from Isle of La Digue to Isle of Mahe or vice versa
Check-in 1 hour before departure // Boarding starts 30 minutes before departure // Boarding Gate closes 5 minutes before departure
Terminals:
Mahe
Praslin
La Digue

Inter Island Quay, Victoria
Praslin Quay/Baie Sainte Anne Jetty
La Passe Quay/Jetty
Luggage Allowance:
Carry on / Cabin
Checked baggage


7 kg
30 kg
40kg

Max dimensions 50cm X 30 cm X 20cm
Economy Class
Business Class
Please Note: Schedules are subject to change without prior notice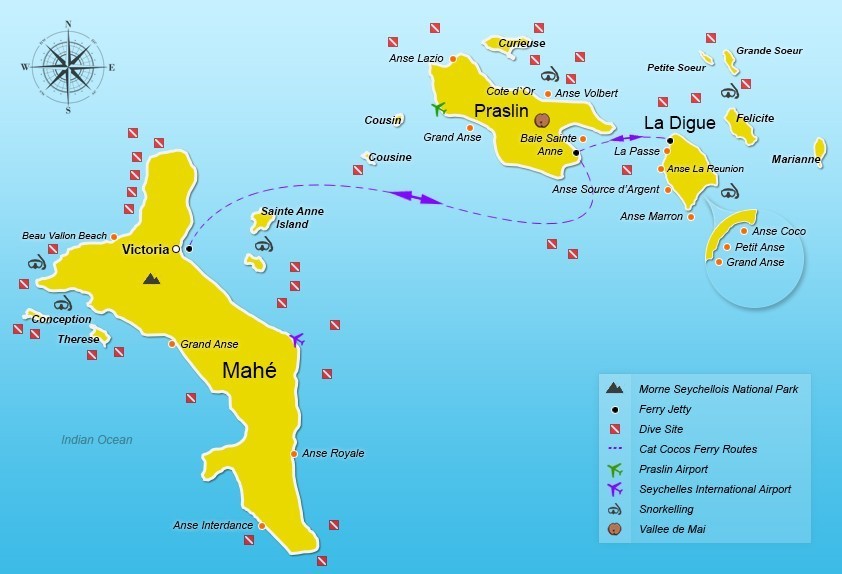 First launched in November 2006, this Australian built 35-metre high-speed catamaran, designed by Incat Crowther and surveyed to international standards, was the fastest and most technologically advanced vessel in Seychelles until the introduction of the Isle of Mahe in August 2013. Fitted with an MDI Interceptor based Ride Control system it provides an efficient propeller-driven solution for a high-speed passenger craft application. Made from marine-grade aluminium this twin-hulled craft is powered by two MTU 12V4000 M70 main engines, driving propellers through a ZF7500 reduction gearbox. The main internal deck can carry up to 208 passengers while the upper external deck can comfortably carry 142 passengers. The Isle of Praslin is fully equipped with the latest safety equipment, including life jackets, life rafts, fire extinguishers and life rings as well as GPS navigation and VHF Ship-to-Shore radio.
SPECIFICATIONS
Craft Name:
Cat Cocos - Isle of Praslin
Length Overall:
35.20 m
Length Waterline:
30.00 m
Beam:
10.00 m
Draft max:
1.80 m
Passengers:
350
Fuel:
9,000 litres
Fresh Water:
2,000 litres
Deadweight:
35.25 tonnes
Main Engines:
2 x MTU 12V 4000 M70
Installed Power:
2 x 2,335 bhp @ 2,000 rpm
Gearboxes:
2 x ZF 7500
Propulsion:
2 x Propellers
Service Speed:
35 knots
SAFETY EQUIPMENT
Life Rafts:
6 x RFD Ferryman 65 pax
Life Jackets:
Lifesaving life jackets IMO standard
EPIRB:
Yes
Life Ring Buoy + Light:
4 units for man overboard
GPS:
Raymarine C180 –twin display
Fire Extinguisher:
Positioned in all cabins
Communications:
Equipped with VHF radio as well as SSB radio

Travel from Mahe to Praslin with Cat Cocos fast ferry. Immediate online bookings and instant e-ticket confirmations, with the Cat Cocos inter-island ferry – Isle of Praslin – book now at Seychellesbookings.com