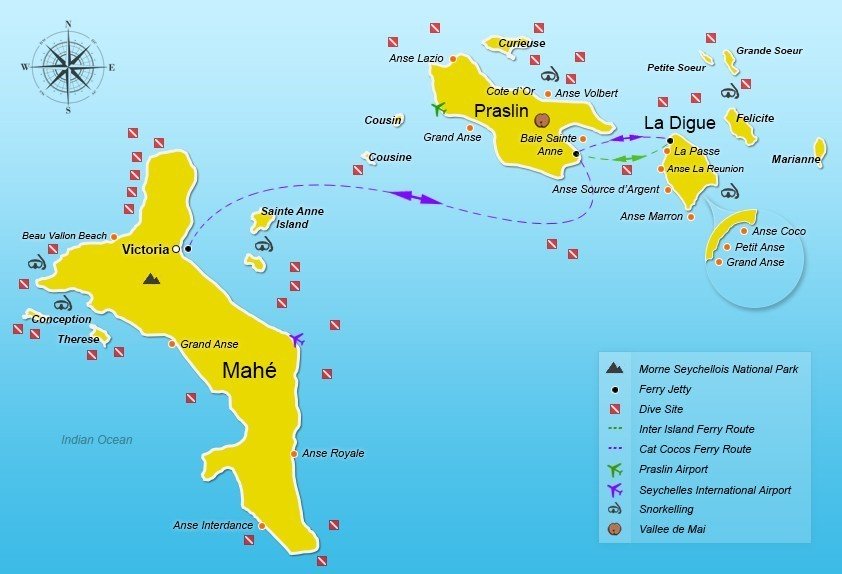 Getting from La Digue to Mahe couldn't be easier!
After exploring the island, make your way to the La Digue Jetty in La Passe and hop on a ferry back to the Mahe Jetty at the Inter Island Quay in Victoria.
Cat Cocos, Seychelles leading ferry operator, currently offers daily services between La Digue and Mahe, with journey times usually less than 2 hours.
With its fleet of four comfortable high-speed catamarans, Cat Cocos offers passengers a choice of both Economy and Business Class travel. The Economy class is split over two cabins: Main Inside Cabin or Upper Outside Deck. The Main Inside Cabin is air-conditioned, but if you suffer from motion sickness, it might be wise to book the Upper Outside Deck, where you can enjoy the fresh air. Business Class passengers have a dedicated lounge with comfortable reclining seats and enhanced service levels.
You can find more information about the different ferry options on our Seychelles Island hopping page.
Currently, all journeys route via Praslin, stopping for approximately 15-30 minutes to allow passengers from Praslin to board. The weekly non-stop service between La Digue and Mahe has been temporarily suspened.
When travelling with Cat Cocos from La Digue to Mahe, you may need to transfer to a larger vessel for the onward trip to Mahe. The Cat Cocos crew will transfer your checked luggage for you when this is the case.
Our La Digue to Mahe timetable will help you plan your trip.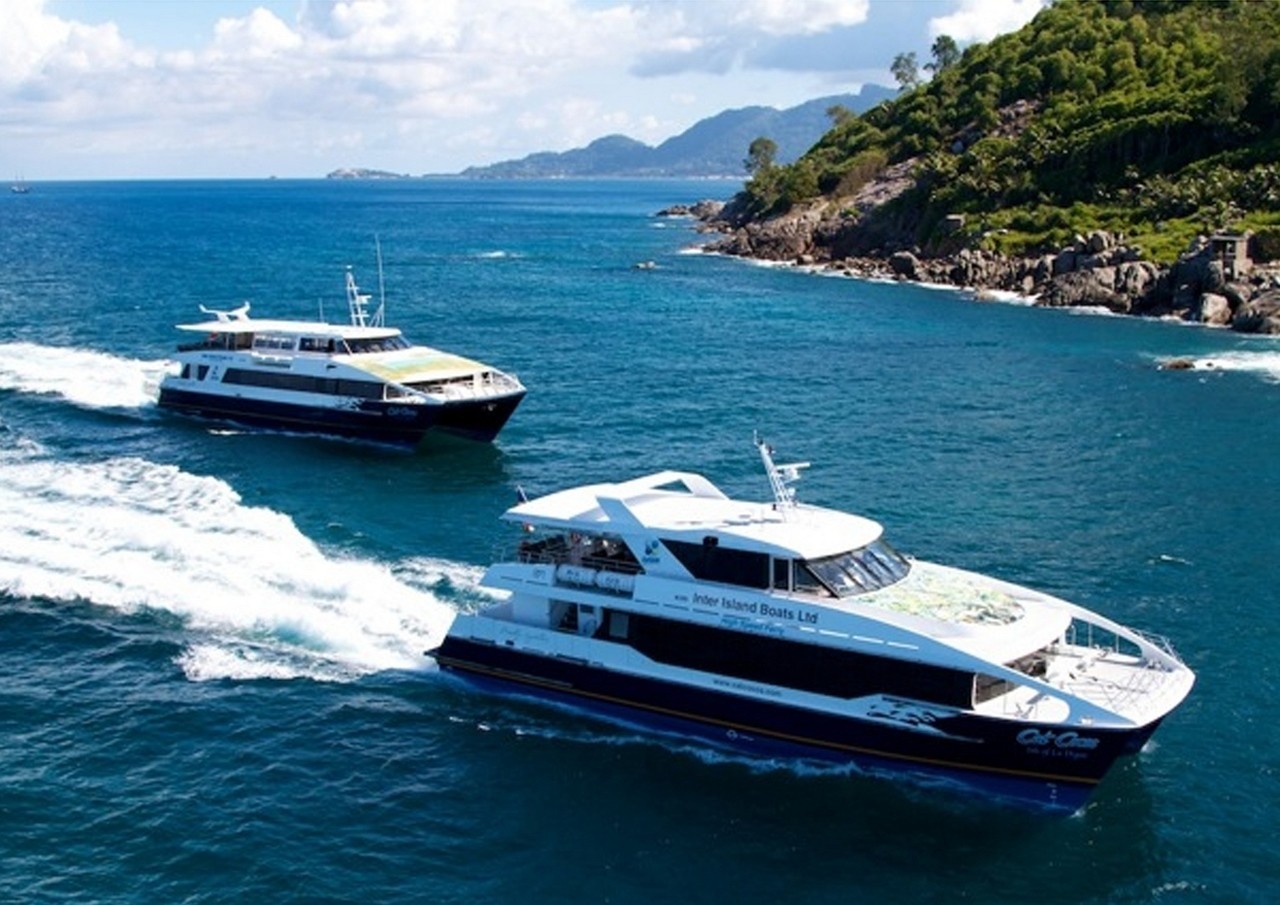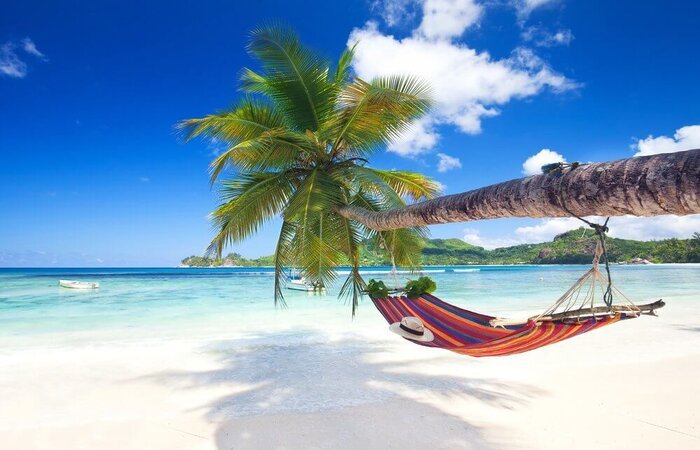 Combine ferries from La Digue to Mahe
There may be days where the Cat Cocos timings do not fit with your plans, especially when their last departure is around lunchtime. So, for the latest possible departure from La Digue on these days, we suggest a combination of two ferry companies.
Travel from La Digue to Praslin with Inter Island Ferry and then from Praslin to Mahe with Cat Cocos.
Based on the current schedule, Cat Cocos does not operate a late afternoon trip from La Digue to Mahe on Mondays and Fridays. So, to get the most out of your time on La Digue, take the 15:30 Inter Island Ferry departure from La Digue to Praslin, and connect with the Cat Cocos 16:30 departure from Praslin to Mahe.
The minimum connection time on Praslin is 15 minutes. Both Cat Cocos and Inter Island Ferry use the same Praslin jetty, so transferring from one company to another is quick and easy.
On arrival in Praslin, simply collect your luggage and make your way over to the Cat Cocos ferry, moored just a short distance away. Show the crew your Cat Cocos Boarding Pass (if received electronically) and check-in for the onward journey to Mahe. Should you not have your Cat Cocos Boarding Pass, pop into the Creole Travel Services jetty office for assistance. And while the overall journey time is a little longer than usual, you'll have gained a couple of extra hours on La Digue!
Our Cat Cocos/Inter Island Ferry Combination Schedule will show you the best connection timings.
La Digue to Mahe ferry tickets can be booked up to 48 hours before departure. Ferry tickets from La Digue to Mahe with Cat Cocos start from €60.00. When booking a combination of tickets (La Digue-Praslin with Inter Island Ferry and Praslin-Mahe with Cat Cocos), one-way ticket prices start from €65.00.
Upon arrival in Mahe, airport transfers are available from the jetty directly to Seychelles International Airport for only €10 per person.
Alternatively, you can book a shuttle bus transfer to your Mahe hotel or resort. Busses depart after each ferry arrival and cost €14 per person, which is cheaper than a taxi in almost all cases!
For those staying on Mahe, there's plenty to see and do. While home to the nation's capital Victoria, the island is also a real tropical getaway, packed with great sites to visit and explore. Check out our Mahe travel tips and Mahe Activities.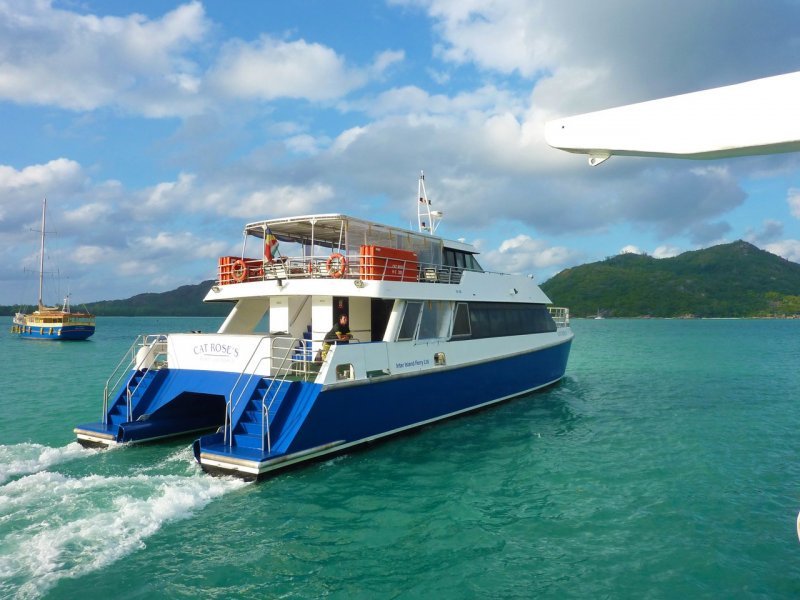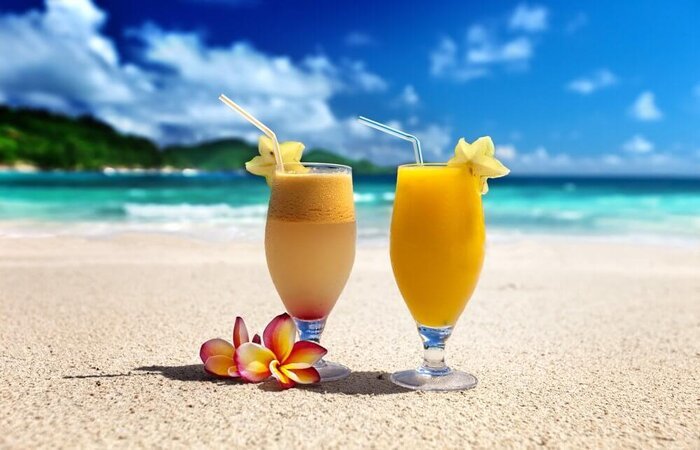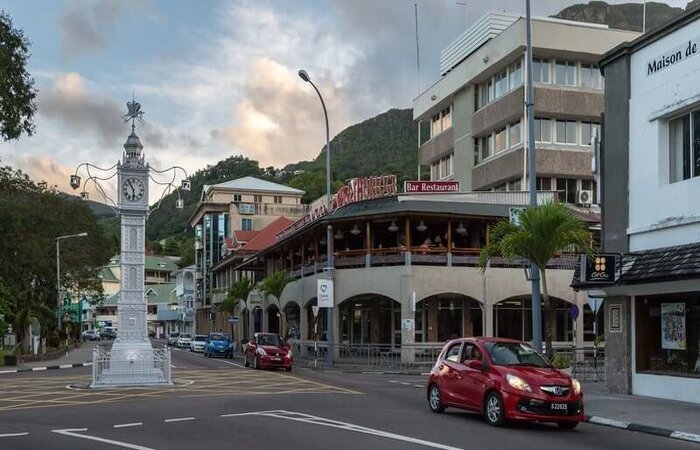 MONDAY
TUESDAY
WEDNESDAY
THURSDAY
FRIDAY
SATURDAY
SUNDAY
Dep.
Arr.
Dep.
Arr.
Dep.
Arr.
Dep.
Arr.
Dep.
Arr.
Dep.
Arr.
Dep.
Arr.
07:30*
13:30*
09:15
15:15
07:30*
13:30*
09:15
15:15
07:30*

09:15

07:30*
13:30*
09:15
15:15
07:30*
13:30*
09:15
15:15
07:30*
15:15◊
09:15
17:45
07:30*
15:15◊
09:15
17:45
* Stopover on Praslin for approximately 15-30 minutes ◊ Transfer from Isle of La Digue to Isle of Mahe or vice versa
Check-in 1 hour before departure // Boarding starts 30 minutes before departure // Boarding Gate closes 5 minutes before departure
Terminals:
Mahe
Praslin
La Digue

Inter Island Quay, Victoria
Praslin Quay/Baie Sainte Anne Jetty
La Passe Quay/Jetty
Luggage Allowance:
Carry on / Cabin
Checked baggage


7 kg
30 kg
40kg

Max dimensions 50cm X 30 cm X 20cm
Economy Class
Business Class
Please Note: Schedules are subject to change without prior notice