No boats found, please change your search criteria
NOTE: Online bookings must be made more than 48hrs before departure, so please book well in advance
Seychelles Island Hopping
Seychellesbookings.com
is the easiest place to book your
Seychelles Island Hopping
experience between the islands of
Mahe, Praslin
and
La Digue
. Use the search box above to
check live fast ferry availability
; simply select your route, travel dates and number of passengers, you can compare departure times and costs, book and pay securely using your credit card or with your PayPal account and receive your fast ferry e-ticket confirmation immediately. Click here for more information on travel from
Mahe to Praslin
,
Mahe to La Digue
and
Praslin to La Digue
.
Once you've selected your fast ferry you can then book your Seychelles hotels, resorts, villas and apartments online, with instant confirmation and the best online rates guaranteed. Choose from a range of luxury resorts to beachside hotels, private villas and self-catering apartments. Seychellesbookings.com offers an ever-increasing range of Seychelles accommodation at prices to suit all budgets.

If you have a question or want to know how to make a booking, check out the
Most Common FAQ's
.
Seychelles Islands
"Paradise on Earth" and "Garden of Eden", are just some of the names associated with the magical island paradise that is Seychelles. Lying in the warm tropical waters of the Indian Ocean, approximately 1600km from Africa's east coast, this archipelago of 115 mostly uninhabited islands occupies an area almost the size of France, Italy and Spain put together! From the lush mountainous granite Inner Islands of
Mahe
,
Praslin
and
La Digue
to the low-lying coral atolls and reefs of the Outer Islands, Seychelles offers visitors pristine beaches, clear turquoise waters and deliciously warm weather year-round. With each island having its own unique identity and special character, not visiting Seychelles would be incomplete without experiencing more than just one island.
On Mahe, you could go snorkelling in Port Launay, hike in the Morne Seychellois National Park and visit the Botanical Gardens. Head over to Praslin to relax on Anse Lazio, see the giant tortoises on Curieuse and visit the famous Coco de Mer palms of the Vallée de Mai. La Digue is then just a short hop away, where you can unwind on the world-famous Anse Source d'Argent.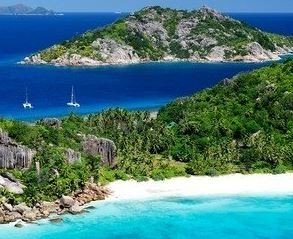 Seychelles Ferry
Our fast ferry partners,
Cat Cocos
and
Inter Island Ferry
are the leading ferry operators in Seychelles. Between them, they offer multiple daily services between the tropical paradise islands of Mahe, Praslin and La Digue. And when it comes to experience, safety, reliability, organization and customer service, our fast ferry partners are the market leaders. To check availability for a Seychelles ferry, and to book your fast ferry tickets, just fill in the required search criteria in the box above. You can book your online ferry ticket up to
48 hours
before departure.
We have first-hand experience of our Seychelles ferry partners and can vouch that their safety and service standards are of the highest quality.

Our Seychelles ferry partners all maintain a high level of safety and service and have safety equipment on board that includes, life jackets for adults and children, life rafts, EPIRB, life ring, lights, GPS and VHF ship to shore radio.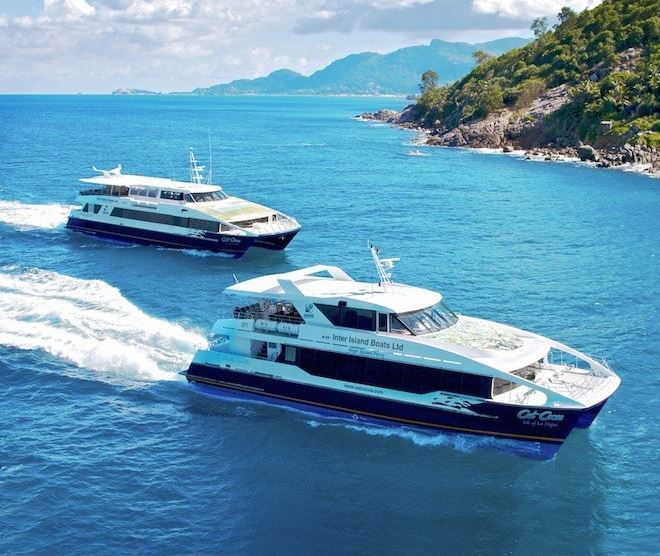 IMPORTANT:
IT IS MANDATORY TO WEAR A FACE MASK THROUGHOUT THE ENTIRE JOURNEY ON ALL FERRIES AND TRANSFERS.
Failure to do so will result in boarding being denied.
* NOTE: Due to COVID-19 health and safety restrictions, food and beverages
are currently not available on any Cat Cocos vessel in any cabin/class.
NO FOOD OR BEVERAGES MAY BE CONSUMED ON BOARD

The Cat Cocos high-speed catamarans - Isle of Mahe & Isle of Praslin - leave from the Victoria jetty up to 3 times a day and will whisk you from Mahe to Praslin in only 60 minutes!

These modern 36-metre vessels offer both Economy and Business classes, air-conditioned cabins, panoramic views, hostess service*, on-board refreshments* and entertainment and a souvenir boutique.

Next to that, their state-of-the-art 'Ride Control' system will smooth out the ride, even on windier days, ensuring you arrive at your destination refreshed and relaxed.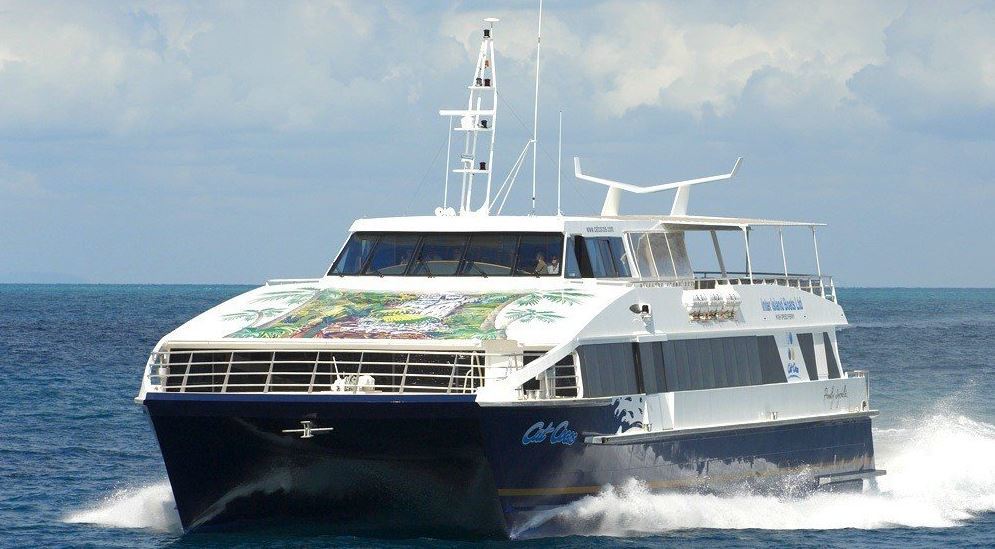 Inter Island Ferry
operates a regular daily service from their base of operations at the new ERO Passenger Terminal in Baie Sainte Anne on Praslin's east coast to the jetty in La Passe on La Digue. Travel in comfort on one of their twin-hulled high-speed catamarans -
Cat Rose's
and
Cat Rose's II
- which make light work of the 15-minute crossing between Praslin and La Digue. With a choice of inside and outside seating, you'll get great views of the islands along with the comfort and safety of a modern vessel.
With up to 8 crossings a day, in both directions, you can be sure there will be a departure time to fit with your Seychelles Island Hopping itinerary.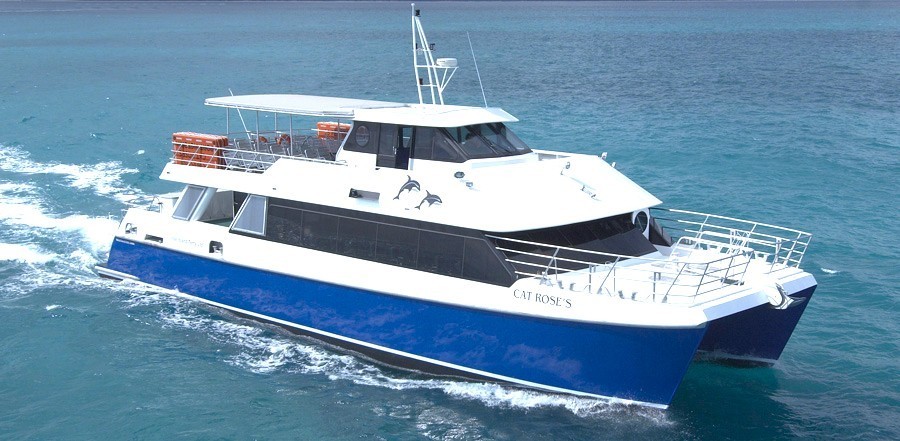 Cat Cocos also operates a once-daily service from Mahe to La Digue aboard their second vessel – Isle of La Digue. Introduced in 2011, this high-speed catamaran now allows travellers to make the journey from Mahe to La Digue without having to change vessels.

Departing from the Victoria jetty every evening, the Isle of La Digue speeds its away across the blue waters of the Indian Ocean to the laid-back paradise island of La Digue, stopping briefly en-route at Baie Sainte Anne in Praslin to let passengers off, before finishing its journey at the La Passe jetty on La Digue.

The same ferry then leaves first thing the following morning, via Praslin, back to Mahe. This is the ideal solution for anyone looking to travel directly from Mahe to La Digue and vice versa.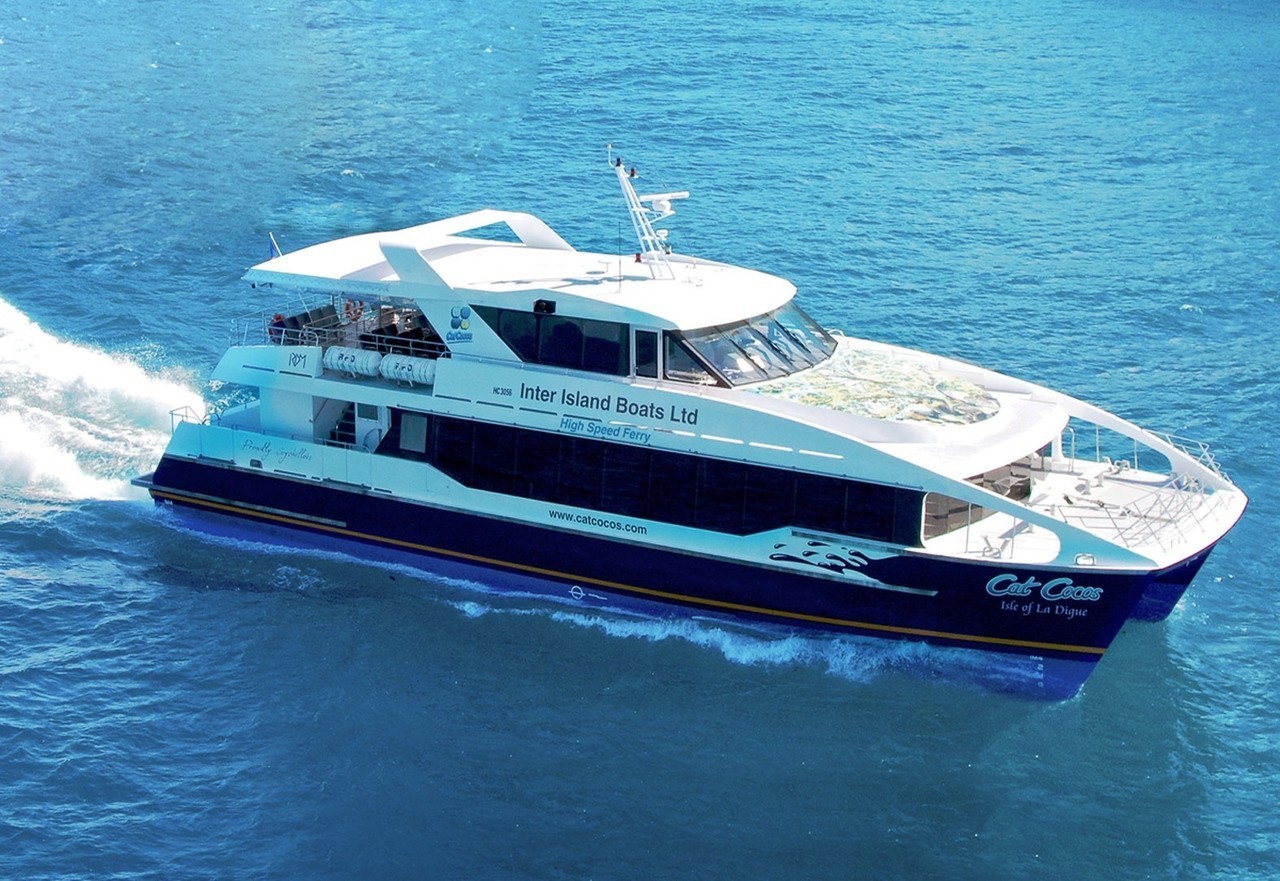 For more detailed information about any of these services, including up-to-date schedules and on-board services, along with route maps and luggage allowances, please view the individual Seychelles ferry company pages. Cat Cocos, Inter Island Ferry.
* NOTE: Due to COVID-19 health and safety restrictions, food and beverages are currently not available on any Cat Cocos vessel, in any cabin/class.