Mahe Restaurants
A melting pot of cultures, the Seychelles kitchen is a vibrant blend of Creole, Asian and European flavours, all brought together with a touch of island spice. Surrounded by the rich waters of the Indian Ocean you can be sure that, wherever you are in Mahe, seafood will feature heavily, with fresh fish served almost everywhere. Catering to a broad variety of international palettes, Mahe restaurants range from informal beachside diners to 5-star a-la-carte restaurants.
Proudly featuring some of the best restaurants in Mahe, we are continually looking to add new eateries to our list of special offer partners. To benefit from some great discounts on food and drink during your stay on Mahe, just select any of the offers below when booking your fast ferry ticket with us. You'll receive a discount voucher along with your e-tickets. Just print-off the voucher and take it with you for redemption at your chosen restaurant. Bon appétit!
---
Marie-Antonette Restaurant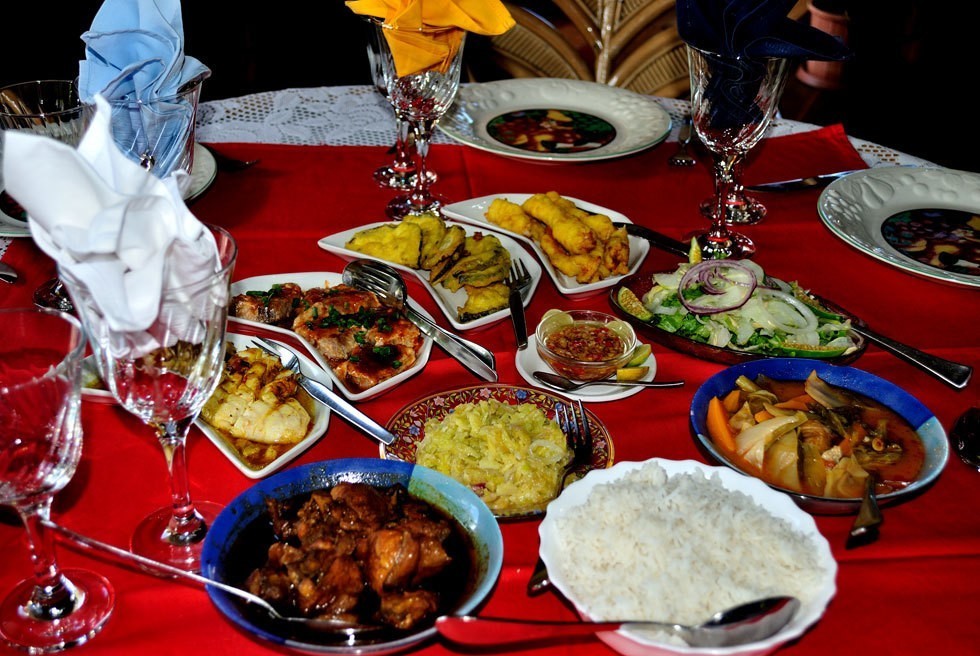 For a truly unforgettable Creole experience, a visit to one of Seychelles' oldest and most famous restaurants is a must!
Enjoy a 10% discount on your food bill at Mahe's historic Marie-Antoinette Restaurant. Just select their special offer during our simple fast ferry booking process.
Popular with locals and tourists alike, their time-honoured menu has remained virtually unchanged since the restaurant first opened its doors in 1972.
Be prepared to feast on a mouth-watering selection of traditional Creole Seychellois dishes from chicken curries, tuna steaks and battered parrotfish to fish stews, aubergine fritters and their homemade golden apple or pumpkin chutneys.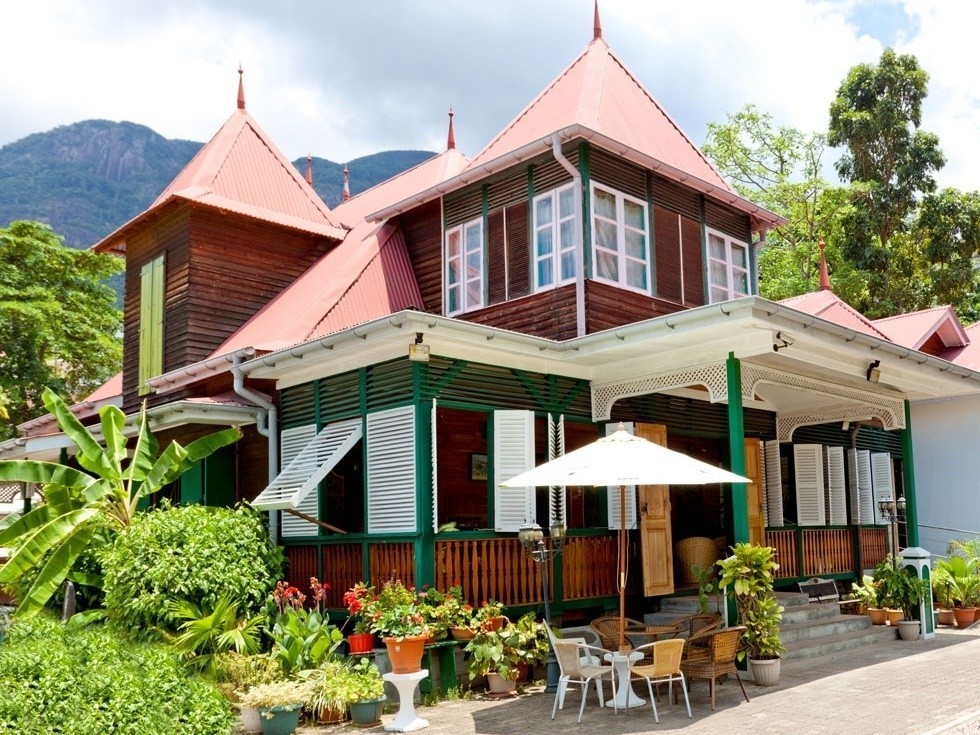 Dishes are caringly prepared using local organic ingredients, and with a variety of salads and sides to accompany your meal, a good selection of imported wines, as well as local desserts and sorbets to finish, all that is left for you to do is bring your appetite!
Set on a hillside just outside Victoria, the restaurant is housed in a historic colonial mansion that dates back to the 1800's and although lovingly restored it still maintains its rustic charm, boasting a warm and relaxing atmosphere. In fact, it is one of the few buildings in the Seychelles that has retained its original structure and design and as such was declared a national monument in 2011.
It is also home to the Livingstone Gallery and features a beautiful flower & spice garden as well as some resident giant tortoises.
Open 6 days per week (Mon-Sat) for lunch and dinner, they are also open for afternoon tea and ice cream. Major credit cards accepted.
---
The Maharajas

Embodying the essence and spirit of North Indian cuisine, "The Maharajas" restaurant is the place to come for probably the best Indian food in Seychelles!
Situated on Mahe's exclusive Eden Island, with views of the marina, The Maharajas (meaning King of Kings) offers a mouth-watering selection of delectable Indian dishes, traditionally prepared and served in a modern yet relaxed environment of handcrafted wooden architecture and elegant lighting, making your dining experience a feast not just for the mouth but the eyes as well.
Enjoy a complimentary glass of house wine with your main course, when you book your Seychelles ferry tickets with us!

Just select The Maharajas special offer during the final stages of your ferry ticket booking. Once payment has been completed, you'll receive a voucher to download and print. Just remember to present your voucher before ordering.

Reflecting the distinctive cooking styles of India's ancient nobility, The Maharajas takes Indian cuisine to a new culinary level. Carefully blended spices and traditional cooking methods all go to make up their extensive choice of appetizing dishes, all prepared with the highest quality ingredients.
The menu ranges from popular curry dishes to clay oven specialties, as well as a variety of signature dishes that sets The Maharajas apart from other Indian restaurants. There's also a good selection of vegetarian options. Complete your culinary journey with one of the well paired wines or an exclusive exotic cocktail.
The Maharajas is open 6 days a week for lunch and dinner 12:00 to 22:45 (closed on Tuesdays)

Take away facilities are also available. Reservations recommended.
---
Delplace Bar & Restaurant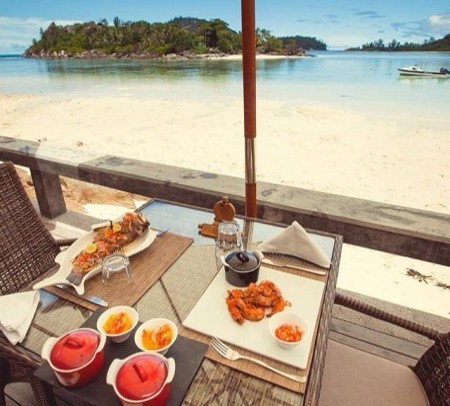 With arguably one of the most stunning views from any restaurant on the island, the hip and trendy Delplace Bar and Restaurant is a welcome addition to Mahe's dining scene.
From its beachside location, this café-style restaurant is the perfect setting for a relaxing lunch or romantic dinner, serving a selection of Kreol and Mediterranean inspired dishes, fresh fish, seafood platter as well as local curry.
You'll receive a complimentary welcome drink or house digestive when you book your ferry tickets to Praslin or La Digue with us. Simply select the Delplace special offer during the booking process, download the voucher and present it to your waiter before ordering.
Situated at Port Glaud on the island's northwest coast, the restaurant affords magnificent views across the lagoon to L'Islette Island and makes for a perfect rest stop while touring around Mahe, especially at sunset. Even if you're not planning to dine, grab a delicious cocktail from the bar, get comfortable in the lounge area and enjoy the kaleidoscope of colours as the sun slowly dips behind Isle Therese.
Delplace is open 7 days a week (11:00 – 22:00).
---
Return to Mahe discounts or find out how it works and explore other islands
---